Mission as Life...
Individuals can find resources for living out Kingdom principles.
Families can read about creative things to promote a God-centered lifestyle in their home. This includes links to other web pages and also materials especially geared for working with children.
Churches can discover how they can help families develop lifestyles of service in community life as well as in missions.
Mission agencies can learn how to become more family friendly, and how to promote a Mission as Life lifestyle with their volunteers.
---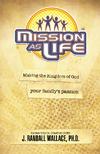 The book, Mission As Life: Making the Kingdom of God Your Family's Passion provides valuable insights and resources designed to help you raise kids to have the "right stuff" from God's perspective. Your family is a microcosm of God's church. God has gifted you and your children for serving Him. Doesn't it make sense that you do that together as a family? Visit our online store to pick up a copy.